MY NAME IS JAKOV
This story began in the heart of the Mediterranean, on Dugi Otok in the nature park Telašćica… in a hidden, quiet bay called Magrovica. My parents, Franciska and Goran, 35 years ago on the coast… in the middle of untouched Mediterranean nature… surrounded by olive trees and the aroma of fresh herbs and plants… stone walls and fishing nets, opened a small family restaurant.
With a lot effort, determination and love they created their little world, which we share with friends and guests. Today, that little world is our life.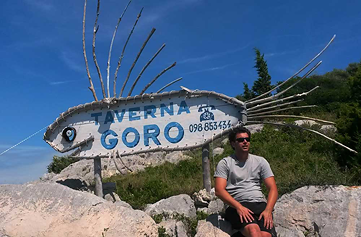 It was not easy to run a restaurant without electricity and water. As it was then, it is today. Solar energy and rainwater are our reality. The restaurant is surrounded with olive trees from which we make our olive oil, the most important link of our kitchen. On our table you will find homemade wine, local fish and vegetables that come from a near by farm that we plant and field ourselves. Without these elements, it would be impossible to experience the tastes and aromas of Taverna Goro.
To skilled boaters, adventurers and all those who desire a new experience, our restaurant is mapped as a must see destination.